Vision & Strategy Worksheet
The #1 problem with most small businesses is not time or workload... It's owner accountability.
Small business owners know what they "should" be doing to advance their businesses but knowing and doing are two very different things. By defining a clear vision and strategy, it will lead to focus and accountability by providing direction and purpose for your business.
Having a clear vision & mission for your business will help you with the following: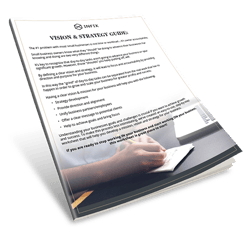 Strategy development


Provide direction and alignment

Unify business partners/employees

Offer a clear message to potential clients

Help to achieve goals and bring focus
If you're ready to stop working IN your business and start working ON your business, this worksheet is great place to start!
Download a copy of the INFIX Vision & Strategy Worksheet to help you get started by
filling out the form on the right.